Please register
You are a solar company? Benefit from the full feature set and register for free.
You are looking for a solar system for your home, company or institution? Get an offer!
You are already registered?
You can login here.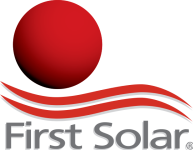 Back
FS-277
by: First Solar
Offer: OFF 15941
Price:
200 Panels ( 15,5 kW )
50 Panels ( 3,9 kW )
Delivery:
on stock
Germany
on request
Vendor:
(
2
)
8
over 1 year
7 hours
Product characteristics:
Payment terms:
Es handelt sich hier um den Typ FS-277 (black). Mindestabnahmemenge 1 Box mit 50 Modulen, kleinere Mengen auf Anfrage mögl.
Product details: "FS-277"
Technical data
CdTe
77,5 W
Manufacturer Warranty
25 years on 80.0% of nominal power
Common data
Safety class II UL 1703 IEC 61646 IEC 61730
Dimensions
1.200 mm
600 mm
mm
Data Sheet
No data sheet available. Upload
We do not provide any warranty for the correctness, completeness and accuracy of the information.